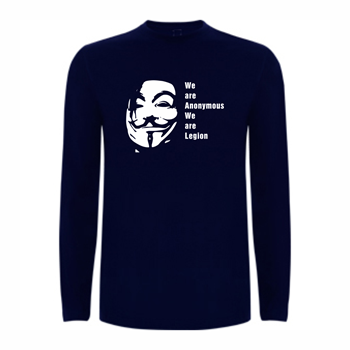 T Shirt Ls Anonymous
Long sleeve T-shirt with printed motive, 100% cotton. We are Anonymous We are Legion
Anonymous (used as a mass noun) is a loosely associated international network of activist and hacktivist entities. A website nominally associated with the group describes it as "an internet gathering" with "a very loose and decentralized command structure that operates on ideas rather than directives".The group became known for a series of well-publicized publicity stunts and distributed denial-of-service (DDoS) attacks on government, religious, and corporate websites.
Show More
Add to cart

You are buying for the first time on GiftShirts.eu?

We believe in the quality of our products and services. We want to convince you too. Therefore, we offer you a 10% discount on first purchase. The coupon will be sent to mail, which you entered in the window below.
Submit
Thank you. Your coupon code Will be send to your mailbox.