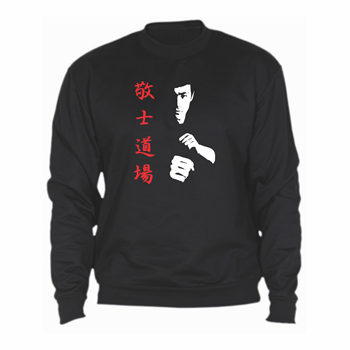 Sweatshirt Bruce Lee
Printed pullover with round collar from 65% polyester and 35% cotton. DSB fleece 280 gsm.
Bruce Lee (born Lee Jun-fan, 27 November 1940 – 20 July 1973) was a Hong Kong American martial artist, Hong Kong action film actor, martial arts instructor, filmmaker and the founder of Jeet Kune Do. Lee was the son of Cantonese opera star Lee Hoi-Chuen. He is widely considered by commentators, critics, media and other martial artists to be one of the most influential martial artists of all time and a pop culture icon of the 20th century. He is often credited with helping to change the way Asians were presented in American films.
Show More
Add to cart

You are buying for the first time on GiftShirts.eu?

We believe in the quality of our products and services. We want to convince you too. Therefore, we offer you a 10% discount on first purchase. The coupon will be sent to mail, which you entered in the window below.
Submit
Thank you. Your coupon code Will be send to your mailbox.